Hi Collector friends,
after the hard Eastern time with the family and lots of good food (and beer) we have to go back to our hobby. Like I wrote it before, during the dark winter time there are enough free hours to scan the own collection and dig deeper into some of our lovely pieces and their history. Sometimes only to get more information about the variation or to get more information about the story behind the medal or badge.
So I grabbed my two Narvik Shields which I usually keep in my bank locker and scanned them closely. After checking my books to get more information I contacted Pascal H., one of the leading shield experts I know (and probably most of you know him too….).
I send him a scan of my silver Narvik  Shield which I got years ago from the family of the soldier. Remembering the story how I got it, I searched for a picture of the day the pieces arrived by mail at my place.
Here you see what they sold me. There were three unworn Luftwaffe Narvik Shields and Flak Badge of the Luftwaffe (cased). All wrapped in and signed by the unit which reads "Dienststelle L10480"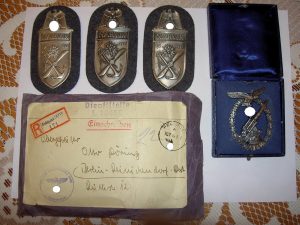 I searched for the Number 10480 and found this:
10480
(Mobilmachung-1.1.1940) 6. Batterie Flak-Regiment 13
dann 6. Batterie Flak-Regiment 33
(28.4.1940-14.9.1940) 1. Batterie Reserve-Flak-Abteilung 1001
(15.9.1940-31.1.1941) 1. Batterie Reserve-Flak-Abteilung 605
(1.2.1941-11.7.1941) 3. Batterie Reserve-Flak-Abteilung 111
(27.1.1942-14.7.1942) 3. Batterie schwere Flak-Abteilung 111
(25.1.1943-31.7.1943) 3. Batterie gemischte Flak-Abteilung 111
That day I was happy and put all of it to my collection. All shields were unworn and in really TOP condition. Sadly after I called the family again and asked for paperwork and pictures they told me that that's all there was……
Back to Pascal, he told me that my shields are the version with the name "snaggletooth" type. The name came from Mr. Frank Heukemes who did also a lot of research about campaign shields.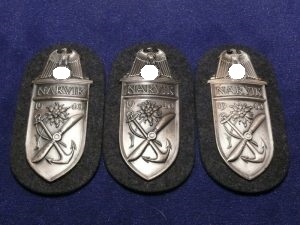 Funny name but in fact these type of shields are easy to recognize as this is the only type of shield were the wings of the eagle don't touch the bar (under the bird).
If you look back to the picture with the three shields, it is hard to believe that they were given posthumous to the soldier. In case of a K.I.A there is one only shield shipped home. Maybe he was awarded three of them and died later in the war….So they send all medals and badges he had home. We will never know…..
Here are some details on my shield:
Size without fabric:
36 mm wide and 91 mm high
Size over all:
55 mm wide and 102 mm high
The weight is about 31 Gramm, it got 4 prongs and it is not magnetic.
More Background
 The Narvik Campaign shield was the first of a series of campaign shields to be introduced and was established by Adolf Hitler on August 19th, 1940 for award to all Wehrmacht, (Armed Forces), personnel who participated in the battle of Narvik / Norway between April 9th and June 9th, 1940. Of Note: Although the shield was officially introduced on August 19th,1940 it wasn't until September 12th,  1940 that the OKM, "Oberkommando des Marine", (Navy High Command), published the issuing order, followed by the Luftwaffe, (Air-Force), the next day. The Kriegsmarine version of the shield was gilt washed while those awarded to Heer, (Army), and Luftwaffe personnel were silver washed. The shields were bestowed by Generalleutnant Eduard Dietl the commander of Army Group Narvik and it is alleged that a total of only 8,577 shields were awarded to all branches of service personnel. The shields were to be worn on the upper left sleeve of the uniform. The color of the backing material was to match that of the uniform it was to be worn on.
Finally I got information to my shield, learned again something about different versions and maybe that was interesting for you, too.
Best
Sascha
 Copyright 2018 : Alle Rechte bei dem Verfasser Sascha Ulderup   / All rights with the author Sascha Ulderup