Hi Collectors,
today I like to show you a special Panzer Assault Badge out of my collection. It is a really rare Hymmen badge, hollow and made of tombak.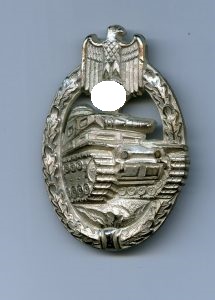 It measures 59 mm in height and 41 mm width. It weighs about 15 Gramm. Shows a German tank on a grass filed (without flowers).
As you can see the swastika is polished and shines like a mirror. There are no signs of wear on the front side, the silver finish is extremely good and nearly untouched.
If you look on the backside you find a round wire catch which holds a long round pin with a sharp pin tip. The hinge is formed like a block hinge and attached on the backside of the eagle.
To the history of the Panzer Assault Badge: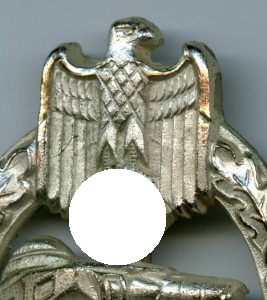 The Panzer Assault Badge in silver was instituted by on December the 20th, 1939 by Walther von Brauchitsch who was a Generaloberst in the Wehrmacht.
It was instituted as an award to all ranks of tank personnel who served as a tank commander, driver, gunner or radio operator and had been involved in three different armored assaults on three different days. The institution order indicated the criteria for award of the badge was to be effective as of January 1st,  1940.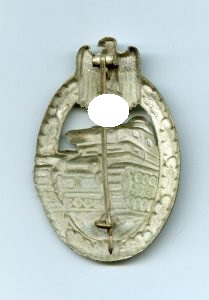 On June 1st, 1940 a Bronze version of the Panzer Assault Badge was introduced for award to Panzer-Grenadier, medical, and armored car personnel who participated in three different armored assaults on three different days.
Silver PAB given to the troops about 22.000
Bronze PAB given to the troops 12.500
Subscribe for more … Kind Regards,
Sascha