Today we have again a nice photo of a Pz.Kpfw. V (Sd.Kfz. 171) "Panther".
This is an so-called 'Ausführung D' (Ausf.D), the first type in addition to the following Ausf. A and G.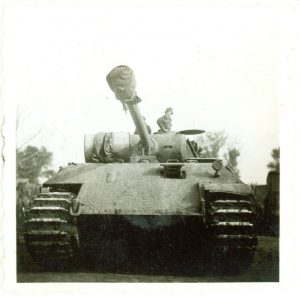 Characteristic of the 'Ausführung D', is the vertical flap in the front plate of the hull (Glacis), the so-called "letterbox opening" (Briefkastenöffnung) for the Bow-Machine gun, which was replaced in the following versions (A and G) by a ball-mount MG and was operated by the radio operator sitting there. Equally striking is the open flap for the driver, which was omitted only with the Ausf. G version.
The missing second headlight on the front plate, the curved rain cover over the two openings of the turret periscope TZF 12 (Turmzielfernrohr) in the gun mantlet and the ring for the anti-aircraft gun on the commander's cupola indicate that this could be a late model, presumably from the July 1943 production.
The vehicle apparently has Zimmerit coating, which appears to have been subsequently applied by the troop. Zimmerit was first installed in September '43 at the factory on the "Panther" and subsequently added to the already manufactured vehicles by the troop. Replacement chain links can be seen on the side of the turret, which were not attached ex works, but supplemented later by welded hooks. The chain links attached to the turret should provide additional armor protection.
The vehicle has operational/combat damage, recognizable by the missing right chain cover and side skirts. The cover (camouflage attachment) on the Bosch headlight has apparently also been lost here.
Above the entry hatch of the radio operator is apparently a barrel for 200 liters of fuel recognizable. It can be seen from the fixed tank gun and the muzzle cover that the vehicle is on the march, presumably shortly before or after loading / unloading a rail transport.
At the moment, no information can be given about the associated unit and the location and date of the recording. Additional information is very welcome.
______________________________________________________________________
Heute zeigen wir euch ein schönes Foto, das einen Pz.Kpfw. V (Sd.Kfz. 171) "Panther" zeigt.
Es handelt sich hierbei um eine 'Ausführung D', der ersten Serienversion neben der nachfolgenden Ausf. A und G.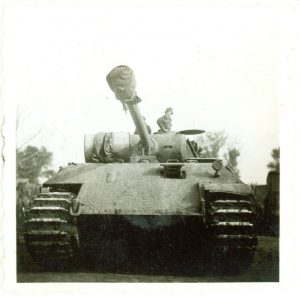 Charakteristisch für ein Fahrzeug der sogenannten 'Ausführung D', ist die vertikale Klappe in der Frontplatte der Wanne (Glacis), der sogenannten "Briefkastenöffnung" für das Bug-MG, die bei den nachfolgenden Ausführungen (A und G) durch ein Kugelblenden-MG ersetzt wurde und durch den dort sitzenden Funker bedient wurde. Ebenso markant ist die hier geöffnete Sehklappe für den Fahrer, die erst bei der 'Ausführung G' weggelassen wurde.
Der fehlende zweite Scheinwerfer auf der Frontplatte, der gebogene Regenschutz über den beiden Öffnungen des TZF 12 (Turmzielfernrohr) in der Walzenblende des Turmes und der Ring für das Flugabwehr-MG auf der Kommandantenkuppel weisen darauf hin, dass es sich hierbei um ein spätes Modell, vermutlich aus der Juli 1943 Produktion handeln könnte. Das Fahrzeug weist augenscheinlich Zimmeritbeschichtung auf, die jedoch nicht werkmäßig, sondern nachträglich durch die Truppe aufgebracht worden zu sein scheint. Zimmerit wurde erstmals im September '43 werkmäßig am "Panther"angebracht und bei den bereits gefertigten Fahrzeugen durch die Truppe nachträglich ergänzt.
Am Turm sind an der Seite Ersatzkettenglieder erkennbar, die nicht ab Werk angebracht, sondern nachträglich durch angeschweißte Haken ergänzt wurden. Die am Turm angebrachten Kettenglieder sollten zusätzlichen Panzerschutz bieten. Hier im Bild ist noch ein Stahlhelm eines der Besatzungsmitglieder erkennbar, der an der linken Seite des Turmes befestigt wurde.
Das Fahrzeug hat Einsatz-/Kampfschäden, erkennbar an der fehlenden rechten Kettenabdeckung und der Seitenschürzen. Die Abdeckung (Tarnaufsatz) am Bosch-Panzerscheinwerfer ist hier offensichtlich ebenfalls verloren gegangen.
Über der Einstiegsluke des Funker ist augenscheinlich ein Fass für 200 Liter Kraftstoff erkennbar. Anhand der fest verzurrten Kampfwagenkanone und der Mündungsabdeckung ist erkennbar, dass sich das Fahrzeug auf dem Marsch, vermutlich kurz vor oder nach dem Verladen/Entladen eines Bahntransportes befindet.
Zur zugehörigen Einheit und dem Aufnahmeort- und datum können derzeit keine Angaben gemacht werden. Ergänzende Angaben sind hierzu sehr willkommen.
Text made by R.A.
Copyright at bacuffz.com