This Wounded Badge in Gold 2. Form 1939 is from the collection of "Kanne" who has a big variety of wounded badges in his drawers. He supported us with pictures of this one, because it is a rare maker L / 53 (Hymmen & Co., Lüdenscheid) which is not found very often on the market. All badges made by the company Hymmen are in a higher price area, so if a Hymmen submerges, it is always sold quickly.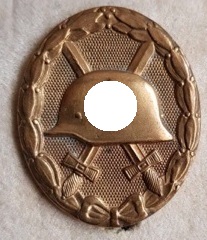 On this wounded badge you can clearly see that it has been worn in the field. That tells us the owner had several wounds during combat and was still on duty. So we can assume he didn´t lose a leg or arm. The badge was made of tombak with along round needle pin. The catch is rectangular (in this case bent through hard wear.) A nice badge which "has seen some action on the frontline".
History behind the wounded badges:
Established on March 3rd, 1918 by Kaiser Wilhelm II to recognize the sacrifice of those who were wounded during the War 1914 –1918. Three classes were instituted. There was black, silver and gold which were given to the soldiers. Reflecting the number or severity of the wounds received.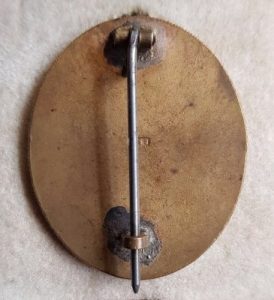 On May 22nd, 1939 Adolf Hitler re-instituted a slightly modified version of the wound badge with the addition of a swastika to the WWI pattern badge for award to German volunteers who had been wounded supporting the Spanish Nationalist Falangist serving in the Legion Condor (July 1936-March 1939). With the outbreak of World War II, on September 1st 1939 with the attack on Poland, Hitler was again re-instituted another slightly modified version of the wound badge by altering the World War I pattern helmet on the badge to the newly designed M35 style helmet of the Wehrmacht. The badge was awarded to both military and uniformed non-military personnel and

later, (March 1943), to civilian personnel who received wounds as a result of enemy actions.
Subscribe for more … Kind Regards,
Sascha