Hello Collectors, today I like to show you a really special badge which is in my collection for about 20 years. Way back in 1997 I started to collect more and more medals and as a navy soldier the special interest in Kriegsmarine badges was huge. An older collector told me, that I have to look always for Tombak pieces made by Schwerin Berlin 68.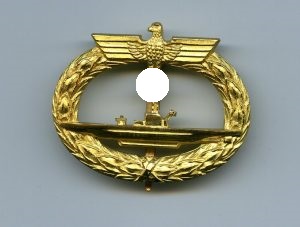 And all with maker on the back…..Start like that and you will always be on the sunny side of collector life ;-). Those days an older lady called me and told me about her uncle who was on submarine. He died during the war and all they have left was a " U-boat medal made from gold" and some books from the Kriegsmarine. Exactly that week I had a training week and was not able to drive to this old lady and check the badge out. So I called a friend who lived close to the badge location. I asked him to go there, to check the estate and if the price is ok, buy it for me.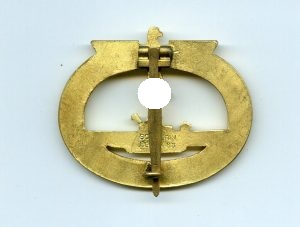 So he went there, bought it all and a week later we met at my place. He opened the box and showed me this amazing golden U-boat Badge, polished, perfect fire gilted finish, solid block type hinge, marker Schwerin Berlin 68 marked and unworn…..So shiny I had to put sun glasses on. He is a man of honor so he gave it to me.
Sure he wanted to keep it, but one man and one word….that's the way it goes.
On the backside there is a fingerprint on the wreath…..That days I wasn`t so careful with my badges and touched them like a child…..
Because of the sweat from my fingers the fingerprint lines went somehow slightly in the material…..Now I know better 😉
To the history of the U-Boat:
The U-Boat War Badge was instituted October 13th, 1939 by the "Oberbefehlshaber der Kriegsmarine und Großadmiral, Erich Raeder on for award to all ranks of U-Boat personnel who had served on at least two sorties against the enemy or were wounded in action.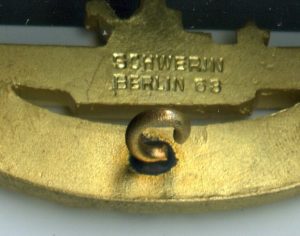 The design of the badge was based on the 1918 Imperial U-Boat War Badge but replaced the Imperial crown with the national eagle and swastika. The badge was to be worn on the lower left breast of most uniforms. All badges were in Gold, there were no broce or silver badges made. Only a few U-Boar Badges with diamond were made, but that is another story…….