We have here a really nice and rare badge which is underestimated because they are extrem hard to find. In 25 years of collecting I wasn´t able to get one for my collection or even put my hand on such a nice one like this here. The pictures came for a friend of Mine, Markus Stappen, who has recently released his new book :" Die Abzeichen und Dokumente im Reichsberufswettkampf / The Badges and Documents in the National Trade Competition" . Really good research on that topic, a must have book.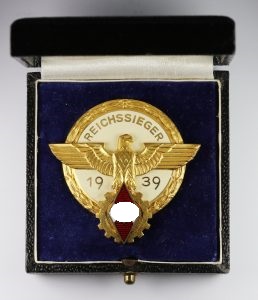 The "Reichssieger" badge you see here was made by the manufacturer Gustav Brehmer Markneukirchen, the dimensions of the piece are: – Wingspan 49,1 mm – Height 48,1 mm – Weight about 26,25 g. The Reichssieger Badges 1938 und 1939 came in a black case with a velvet inlay.
To the historical background:
In February 1934, National Youth Leader Baldur von Schirach and Dr. Robert Ley, head of the German Labor Front collaborated in a joint effort to institute a National Trade Competition to encourage German youth to develop proficient skills in manual, technical or professional trades. The competitions consisted of twenty main categories with over seven hundred assorted trades being represented. All participants were required to belong to the HJ, DAF, or another NSDAP organization, and only those under 21 years old were eligible to compete.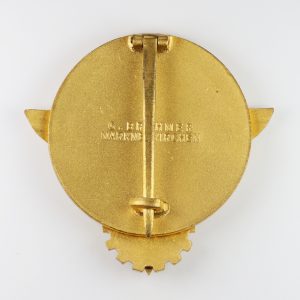 Participants were required to demonstrate their particular skills and successfully complete appropriate written tests. The competitions were held at the three different political levels with the winners advancing to the next level. Local, (Kreis), level competitions were held in February followed by the State, (Gau), level competitions in March and the National, (Reichs), level competitions held in April, with the National winners being bestowed their awards by Hitler personally on May 1ST, the Day of National Labor. Although all competitors were issued a participants badge and certificate, originally only the National winners were bestowed an actual award with corresponding certificate. In 1938 a new award was instituted in three grades with the colored finish determining the grade of the award as follows, gold finish for the Reichs level award, a silver finish for the Gau level award and a bronze finish for the Kreis level award. Of Note: In 1938 eligibility to compete in the National Trade Competitions was extended to include those over 21 years old and participants were no longer required to belong to an NSDAP organization. After the outbreak of the war the competition was renamed, Kreigsberufswettkampf, (War Trade Competition), with the last event held in 1944.
Subscribe for more … Kind Regards,
Sascha