Hi Gents,
this year was my first time on the spring Kassel show 12.04. – 14.04.2018.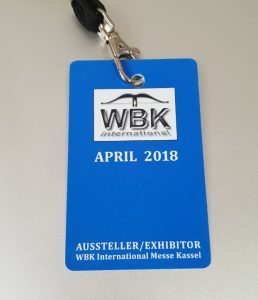 Like the last year my part or my work at the show was behind the sales counter of the company Trave-Militaria from Lübeck. My main Job is still lieutenant commander in the German Navy, but for Trave-Militaria I work as a consulter and during the big shows I take care of the international collectors.
This time we started of very early and arrived in Kassel on Tuesday 10th of April at about 14:00 o`clock. There were lot of activity in the big building number 1. For the smaller April fair only one hall was open for the dealers.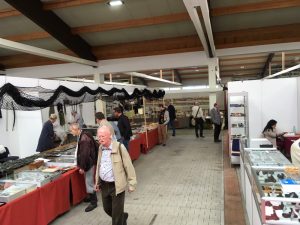 Everybody was working on their sales both, bringing lots of military item in and try to put their nicest stuff in a good position.
We put our sales area together and also had some time to look around. We met Mr. Helmut Weitze from Weitze Militaria and his crew and lots of old collector friends.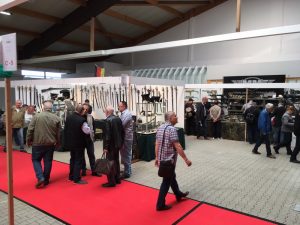 We catched the hottest news and lots of rumors about the big things going on like the estates of "Schulz" and "Bäke". Everybody knew something and information's (good and bad) circled the dealer corners. During that talking we checked the medals and badges of the other dealers and bought some little pieces.
At the end of Tuesday, we went back to the hotel for a shower and some dinner, one or two beer made the evening even better.

On Wednesday morning more and more dealers came to building one and started their set up. Also some collectors with dealer cards stopped by for a chat and started to hunt the fair for the best deals. I met Mr. Christian von Eicke from Militaria Berlin and Skip also. We had some good talks during lunch time and always some jokes to tell and….funny time !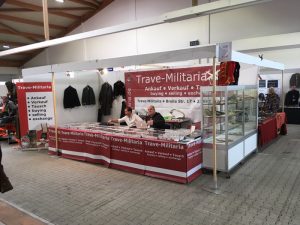 Also Mr. Frank Scholz from Militaria Scholz was there and we talked about high end Luftwaffen badges and the ongoing up and down of the prices (what a mystery).
For my one of the highlights was the first personal meeting with Mr. Philippe de Bock, owner of the German Combat Awards Forum and Book Author of the Panzer Assault Book…and I mean THE PAB Book. We had good conversation's as suddenly Mr. Giel Van Wassenhove from Giels Militaria showed up and it was also a pleasure to meet him in Person. That's always the best part on military shows, meet the guys live and not via Whats App or Email.
All were hunting for high end stuff and some guys were lucky…..I heard from a buy of three Iron Crosse 2n class 1939 marked 21……extremely hard to get. Also a nice Legion Condor Tank grouping was sold and a few very nice Luftwaffe estates.
Somebody told me about a SS Generals Tunic which was sold from somebody to somebody but I did not get further information's nor did I see it. Bad luck!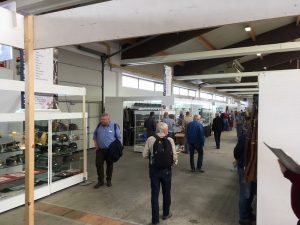 The Wednesday ended with some long drinks at the hotel bar and as always with lots of collector story's and fairy tales about high end military which were found somewhere…..
On Thursday again the day started early and we arrived at the show about 08:30. Enough time to go around and check the late dealers which came in the morning to build up the sales booth.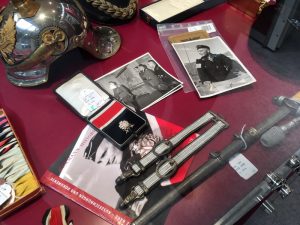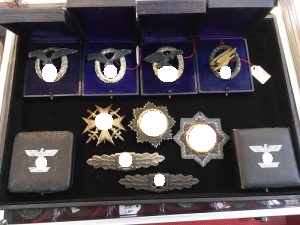 At 10:00 the gates opened and a flood of collectors came in. Hunting for iron crosses WW 1 and WW 2 marker marked, lot of tank estate collectors asked for paperwork and U-boat estate collectors for rare documents. Combat Badges where in the focus as always, but here also it had to be a rare maker or mint condition. The European collectors bought lot of small things for a resell in their country. Time passes by and I met a lot of collectors from all over the world, that was really fun and always good to get an inside view how a collector brain works 😉
At about 15:00 my shift was over and I had to get back home. We were released by Peggy and Christian and from that time on their job was to help the boss.
Took me about 6 hours to get home and see my family again.
Bottom line for me, this fair was smaller than the Autumn Show from last year and less collectors and dealers were there. But the networking was great and as always I learned a lot.
I am looking forward to the next Kassel Show in November 2018 and I hope to see you guys there.
All the best
Sascha