Hello Collector friends, it took me some time but after 3 weeks of holydays it is not easy to get into the old rhythm again. I spent some time out of Germany, went to the WACKEN Heavy Metal Festival and took some days off to work on our new project.
Another new project you ask…….yes ! I am not getting tired to move on and try things out.
The big plan is to build a new auction house here in Germany. Yes, to build one where you actually go inside, raise your number card and place your bid.…. Not only an online platform but there will be the internet option also.
Together with my friend Dennis who runs the company Trave Militaria, we searched for a nice location in the historical part of Lübeck in norther Germany.  Finally, he found a TOP place and asked me to be a part of it ….. and I jumped in as a partner.
The size is huge, about 300 square meters for all the nice stuff we will put in the auctions and a big room with enough space for about 100 visitors. If everything works out, we will open up about September 15th, 2018 and our first auction will be November 10th, 2018.
If you like to get more information you can go on the Facebook link and follow the buildup of our new project, there.
The main website is still under construction but will be online soon. We don`t do only military, also antiques, paintings, watches and jewelry…..something for everybody.
I will keep you up with more information about it in the next weeks.
But back to the Blog and here something about badges.
This week I found an interesting Badge on the MFF, which is not very common and rare to find.
It is a Minesweeper Badge made by FLL (Friedrich Linden Lüdenscheid) and the material is CUPAL. It belongs to Dave Grohen`s collection and he was so kind to provide me with pictures, size and measurements. It is 54 mm in height, and 44 mm wide. The weight is 14 Gramm (so a lighweight). A tombak minesweeper can have about 24 Gramm……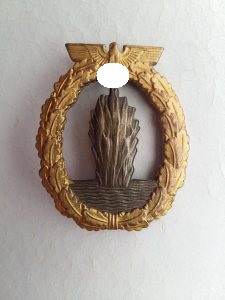 For some of you Cupal is nothing new, but there are collectors out there who are not that familiar with the material. We go into that later.
First of all, something about the badge itself.
The Minesweeper's war badge was instituted on August 31st, 1940 by the Oberbefehlshaber der Kriegsmarine und Großadmiral, (Commander in Chief of the Navy and Grand Admiral), Erich Raeder for award to personnel serving on minesweepers, sub-chasers, and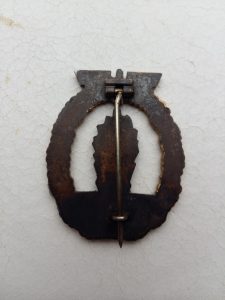 escort vessels who met the prescribed requirements. The main prerequisite for bestowal of the award was participation in three operational sorties. Because the Kriegsmarine had so much little ships until the end of the war used for different duty`s there are a lot of minesweeper badges out there. Mostly zinc versions, some nice tombak badges and also woven examples. I heard about aluminum pieces but never saw one.
There is a saying that "minesweepers personal is close to the almighty god" and "where we have been the fleet will sail to".  However, I can remember my eight years in the 5th Minesweeping Squadron of the German Navy as a very interesting time.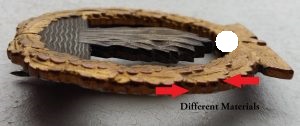 I learned that big ships like Cruisers or Destroyers won`t go anywhere if there is a mine warning. They call the little sweepers "to clear the road" before they move on.  Only after a "green light" from the sweepers and the data for a mine free channel, they move on……
This Cupal FLL Minesweeper was shown on the MFF by Dave who had it in his collection for some time. While researching on the topic I used the Book from Sascha Weber and Gerhard R. Skora about Kriegsmarine badges" Die Kriegsabzeichen der Kriegsmarine". And like I wrote that in the blog postings before, that is THE Book you have to have if you collect serious in the field of Kriegsmarine awards. You must understand, I collect for 25 years now and still use the book to proof this or that or just to compare stuff. So from this place a thumbs up to Sascha and Gerhard for this great Book.
Her we have some more information on the cupal material.
CUPAL stand for COPPER PLATED ALUMINIUM
Cupal was invented as a cost saving material in the 1920's. Either a single or double layer of copper was added to aluminum alloy base and initially saw use in such things as water pipes. It was a cost saving feature at the time- it provided for better corrosion resistance and was easier to work with when welding pieces together.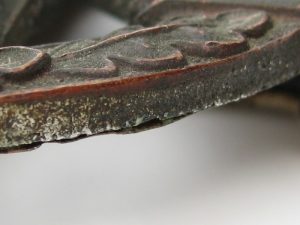 The generic term for such a material is "Bimetal" and these are used to combine the properties of the two components to achieve desired results. Most often the application for this is electrical as in a "Bimetallic strip" used in heat sensitive switches or cut outs because the two metals have differing rates of expansion under heat and this causes the strip to bend thus either making or breaking a contact. Such a composition of copper and aluminum is used in washers on electrical terminals to prevent galvanic reactions between dissimilar metals under current.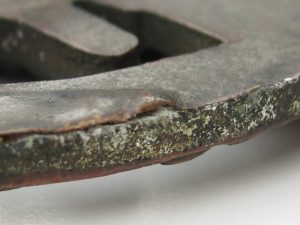 Cupal was used in badge production for mostly economic reasons (Germany had problems sourcing copper which was needed for applications more crucial to the war effort) but it did have some practical manufacturing benefits as well. Although they changed to simple zinc soon enough.
We often see cupal used on insignia for the same reason as well as the fact that it allowed for easier plating.
It continued to be used post war and it's still being used today.
It's a thick, like 2mm aluminum plate with a very thin, like 0,2mm copper plate pressed onto it. They are not welded or stuck together but pressed so hard that they are practically "welded" together.
I got also two picture from Philippe de Bock out of his German Combat Awards Forum to show here the different layers of material on a badge.
Final you have to understand that the collectors market is sometimes a mystery. There are days were badges go for incredible amounts over the table and sometimes they are like glue and won`t go anyway.
But a lot of collectors look for cupal pieces and if a badge pop`s up it will be a fight to get it. So look always close what you get and never ever sell something you don`t know……
Thanks for reading, please help the blog to get more readers and more writers……Let the other collectors know what you can find here.
Take care
Best
Sascha
"Subscribe" / "abonniere"
Copyright 2018 : Alle Rechte bei dem Verfasser Sascha Ulderup