Hi Collectors,
today I like to show you one of my favorite Para Badge (Fallschirmschützenabzeichen der Luftwaffe) made by the company Assmann.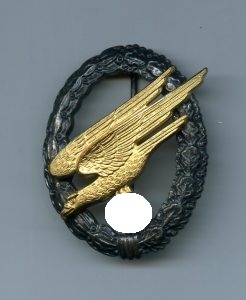 It is in a superb condition and never worn on the uniform. I had the chance to meet the owner in Person in 2003 in his house. He showed me all his pictures from his time as a Fallschirmjäger and about the moment when he was wounded in 1944 on the eastern front. He had two para badges, iron cross 2nd class and wounded badge is silver. Sadly he died in 2005 and his son sent me all his paperwork, pictures and this Para Badge.
So a special one for me in my collection which I would never give away.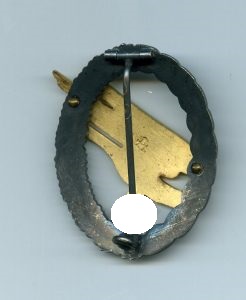 The badge size is  54 mm high and 43 mm width. The weight is 33 Gramm. The eagle is golden all the way and holds on to the wreath with the typical Assmann rivets. The catch is a round wire catch which sits directly on the wreath (made from tombak). The barrel hinge is also directly attached to the wreath.
It comes in a blue case which has the "Fallschrimschützen=Abzeichen" in gold on the top of the case. The inlet is made from high quality material and the badge fits perfectly in it.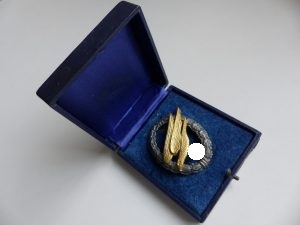 About the history of para badges:
As a result of observations of the Russian experimentation with the newly developing paratroop personnel in 1928 the Germans began serious consideration of also developing paratroop units and plans were drawn up for formation of such units in late 1935. Both the Luftwaffe and Army eventually established paratrooper units, consisting of voluntary personnel, on January 29th,  1936 and March 31st, 1937 respectively and a paratroop training school was established at Stendal in early 1937.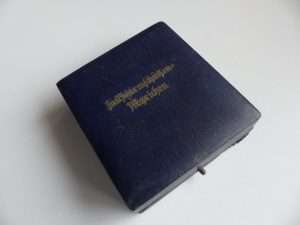 The Paratrooper's qualification badge was instituted by Hermann Göring on November 5th, 1936 for award to Luftwaffe personnel who had written the required tests and completed six parachute jumps. Individuals who were awarded the badge were obligated to re-qualify annually in order to retain it. On May 2nd, 1944 award of the badge was extended to include Luftwaffe medical, administrative and legal personnel who had passed the required tests and completed one parachute jump.
Subscribe for more … Kind Regards,
Sascha