Happy new year to you all and may all your collector dreams come true 😉
After the dust of Kassel Fair settled down it is time to study again in our hobby.
Between X-Mas and new year I had some time to try out the You Tube possibilities. That way, I will try to make it more interesting for collectors and also for young collectors to come into our hobby. But I am just starting and there are a lot of things to think about. So if you like check that out and leave a feedback it would be very helpful. The first videos are in German language but I am working on English versions….so please be patient.
Reflecting all the things I saw at the Kassel fair I wondered about very expensive cardboard……
Yes, that's right. Cardboard boxes which were used 70 years back to wrap or protect a medal case or a document is on one side hard to find and sometimes very expensive 😉
But I want to go deeper in a cardboard mytery because you might never see one in real nor bringing it into your collection.
Let's go a few years back when I had the chance to buy my first Knight's Cross Red Leather Folder or Knights' Cross Map. As far as my information are right there should be only 420 Maps out there!!!
Here is the story:
A gentlemen called me and asked me if I want to buy a KC Map from a higher ranking officer of the Army. My hands got sweaty and I said that I am interested, depends on the price he asked for. The price was OK and he sent me pictures via Email. Nice Map, all how it should be an we made an appointment close to Hamburg. Two days before the meeting he called and asked if I like also the cardboard protection for it…..Well I told him that it would be just great to have it too. So I checked the net to get an idea how a cardboard for the KC Map looks like and what I have to check before I finally buy it.
The "purchase" day came and I went all the way to Hamburg to meet the seller. It was a nice little restaurant were we had lunch and later on we were planning to make the deal in a room away from the guests.
He had a big bag where the "holy grail" was inside. Unpacking it I was disappointed. Yes, it was a nice KC Map in a good condition, but the cardboard was only a painters cardboard of the size where a KC Map fits in.
Well, no problem. I bought the Map and brought it all home.
Nice one, pretty good condition and nice to have. But as you all know….you cannot keep everything. So I sold it a few years later. I told myself that I can`t keep one without the cardboard ;-))….had to let it go!
Scanning the net for nice KC Maps you can find one from time to time with the cardboard together. More expensive but very interesting to see. That time I asked myself if the cardboard cases are all made the same way, with the green corner protections and the writing on it……Yes they should all be the same.
Lucky me, a few months ago I got a big fat KC Map in my hand to study it and here you see what it looks like.
My plan was to give you all the measurements and the weight and so on and so on. But a good friend told me (and he is so right with is). If I give all the data, the forgers will start doing fake cardboard boxes for the Maps…..
So if a big Red Map is offered to you and it is in a cardboard, just drop me a line via email and I give the measurements to you. That way we can be sure you don't get recycled crap in your hand.
But before come to the end the historical background to the Knights Crosses for you: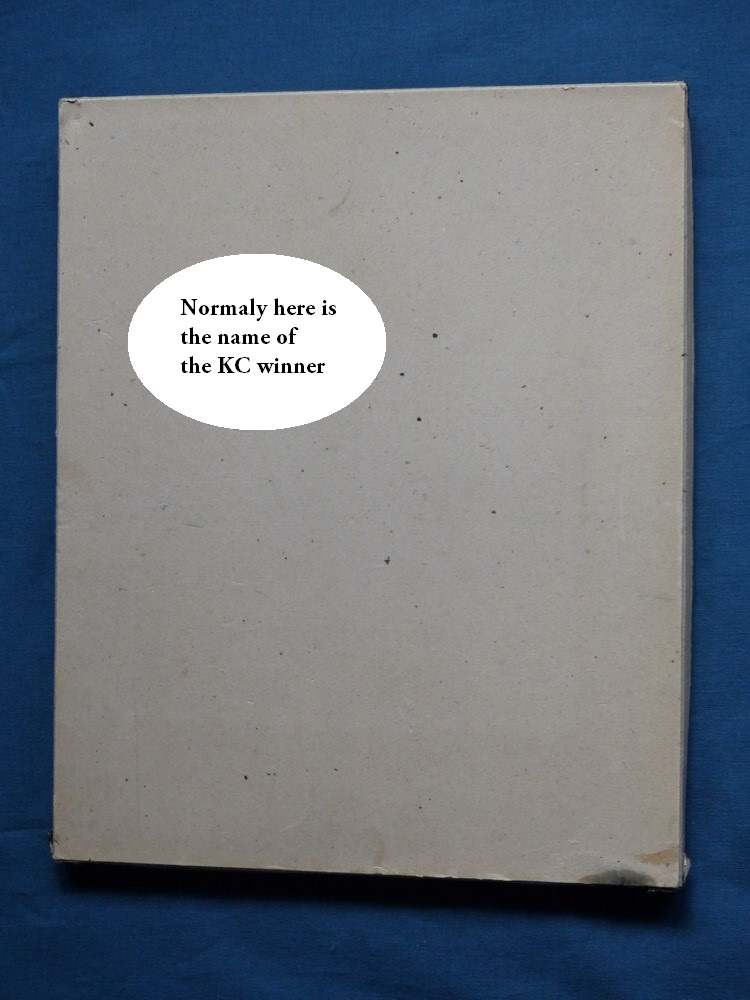 On March 10th, 1813, Prussian King Friedrich Wilhelm III established the Iron Cross as a temporary gallantry award for bestowal during times of war. Originally the Iron Cross was introduced in three grades with a Grand Cross intended for award to Senior Commanders for successfully leading troops in combat and the First and Second classes for award to all ranks for bravery or merit in action. The Iron Crosses were reinstituted by King Wilhelm I on July 19th, 1870 for award during the Franco-Prussian War and again on August 5th, 1914, by King Wilhelm II for award during WWI. On September 1st, 1939 Hitler once more reinstituted the Iron Cross series of awards in the First, Second and Grand Cross Classes and established the new Knight's Cross of the Iron Cross. Hitler reserved the right to personally authorize bestowal of the Knight's Cross and all ranks were eligible for the award. Originally the criteria for bestowal of the Knight's Cross was outstanding personal bravery or decisive leadership in combat but this was later expanded to include personnel who had continually demonstrated exceptional acts of courage or an extremely high success rate on the battlefield. The Knight's Cross of the Iron Cross was the most coveted award of the Third Reich period and those presented with it were elevated to the status of a national hero. In total it is estimated that roughly 7,360 Knight's Crosses were awarded during WWII, a relatively small number when one considers the amount of troops fielded and the magnitude of the war. Due to the prestige of the award personnel who could afford it would opt to buy a jeweler's copy for everyday wear with the actual award being put away for safe keeping. Of Note: The LDO, Leistungsgemeinschaft der Deutschen Ordenshersteller, (Administration of German Medal Manufacturers), began regulating the manufacture of German awards in March 1941 as a quality control agent for awards that were intended for retail sale and manufacturers were to use an assigned LDO, "L", code on their products destined for retail sales.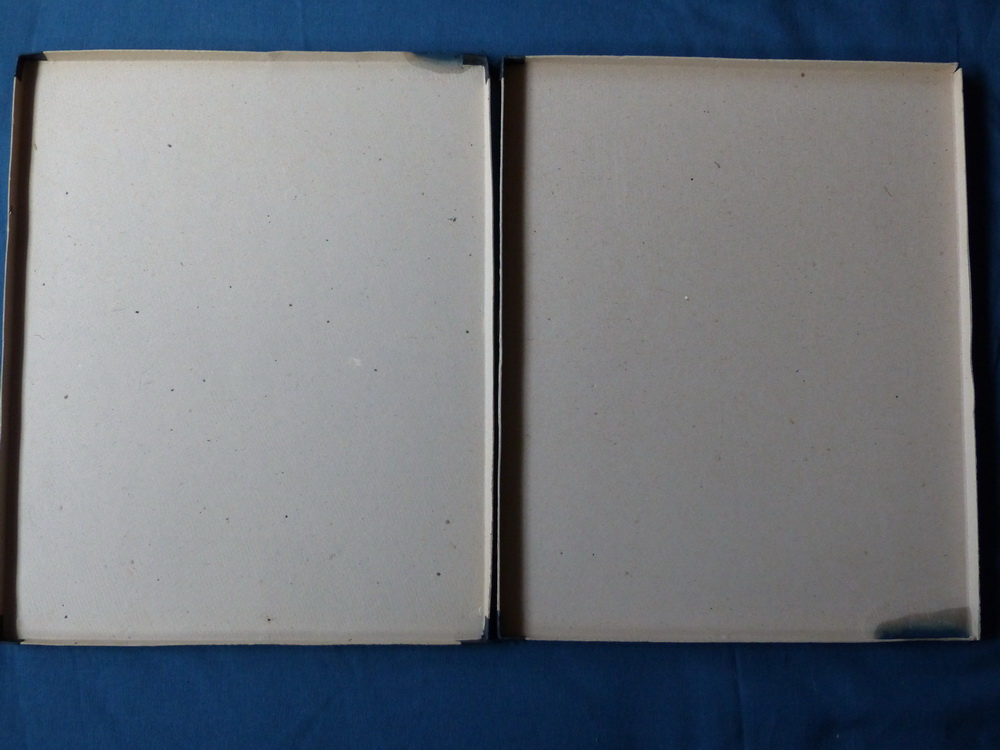 Awards that were to be bestowed by the government were also issued an official numerical government contract code known as a, Lieferantnummer, (Contractors Number), that was issued by the Präsidialkanzlei des Führers, (Presidential Council of the Führers), for formally approved manufacturers. The manufacturing firms that were licenced by both the Präsidialkanzlei des Führers and the LDO and would have used the same dies to stamp both the official issue and retail sales types of awards making them virtually indistinguishable from one another except for the markings. Regulations of November 1st, 1941 prohibited further manufacturing of the Knight's Cross for retail sale. Of Note: On June 3rd, 1940 a higher echelon of the Knight's Cross was established with the introduction of the Knight's Cross with Oak-Leaves and on July 15th, 1941 an additional two higher grades of the Knight's Cross with Oak-Leaves were introduced with the establishment of the Knight's Cross with Oak-Leaves and Swords and the Knight's Cross with Oak-Leaves, Swords and Diamonds. Finally on December 29th, 1944 Hitler established the final grade of the Knight's Cross with the Golden Oak-Leaves, Swords and Diamonds. Also of Note: The Grand Cross of the Knight's Cross was only awarded once to Reichsmarschall Hermann Göring and the Knight's Cross with Golden Oak-Leaves, Swords and Diamonds was also only awarded once to Oberstleutnant Hans-Ulrich Rudel.
Here we have also another example how the Maps were delivered, wrapped in protective paper and in the cardboard box. Picture came from Frank Scholz /Scholz Militaria. Thanks Frank !!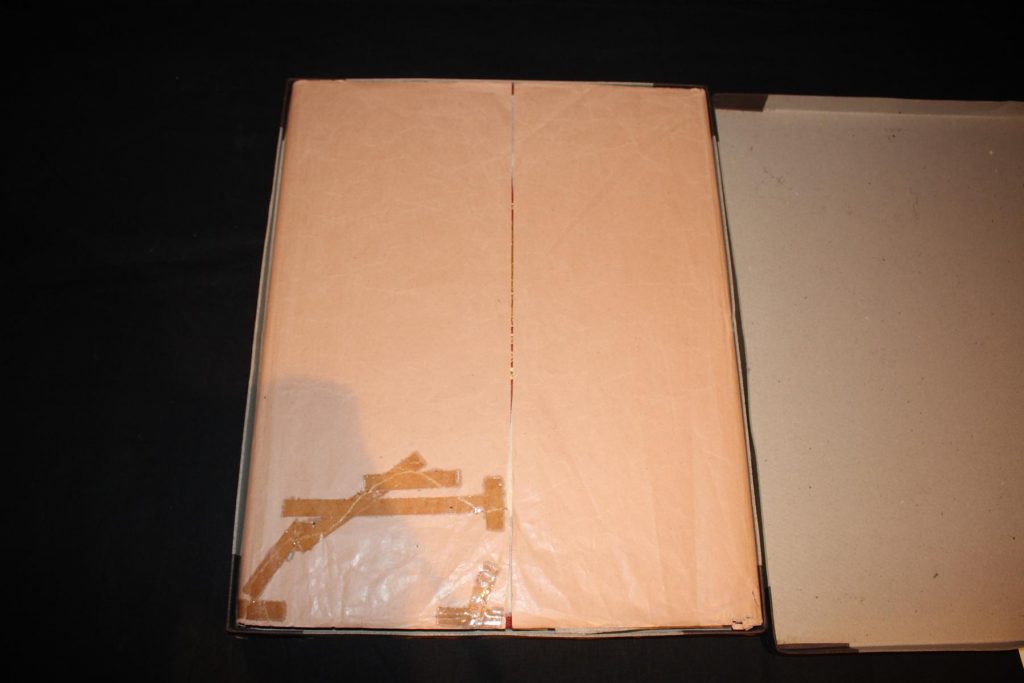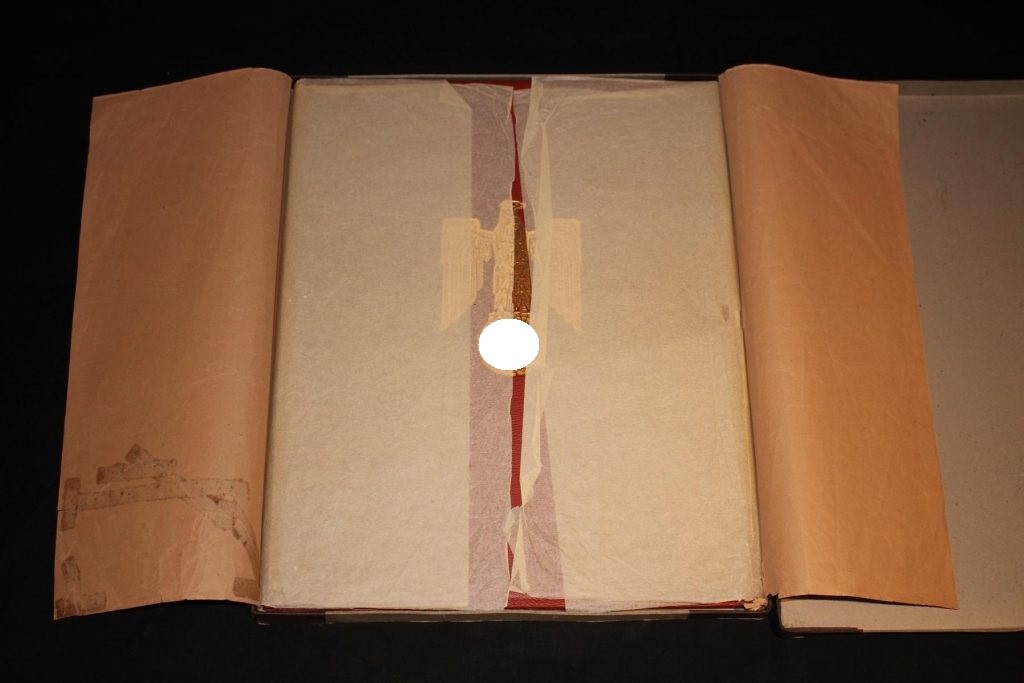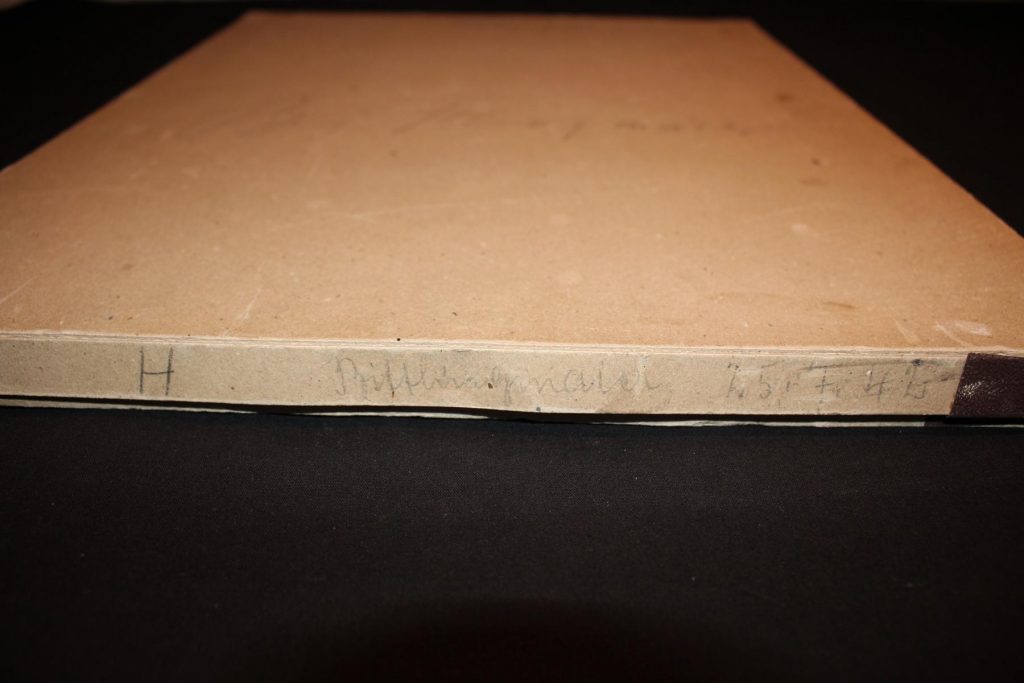 Finally I foud some pictures of Reporduction cardboards, so here you have an idea what they look like.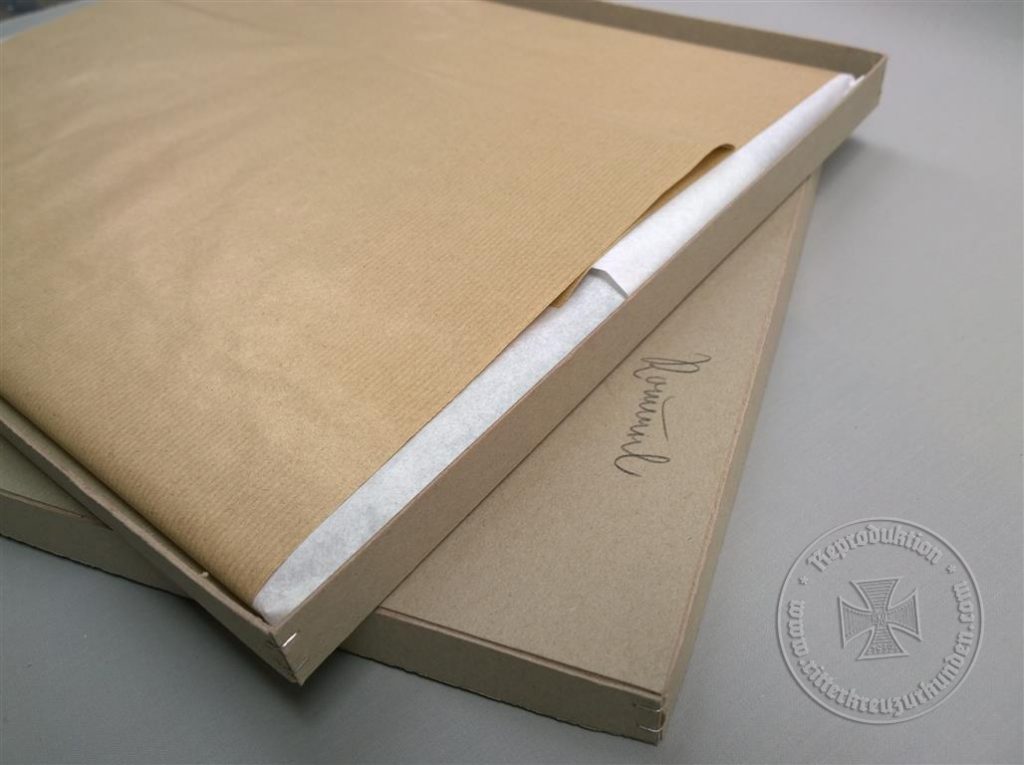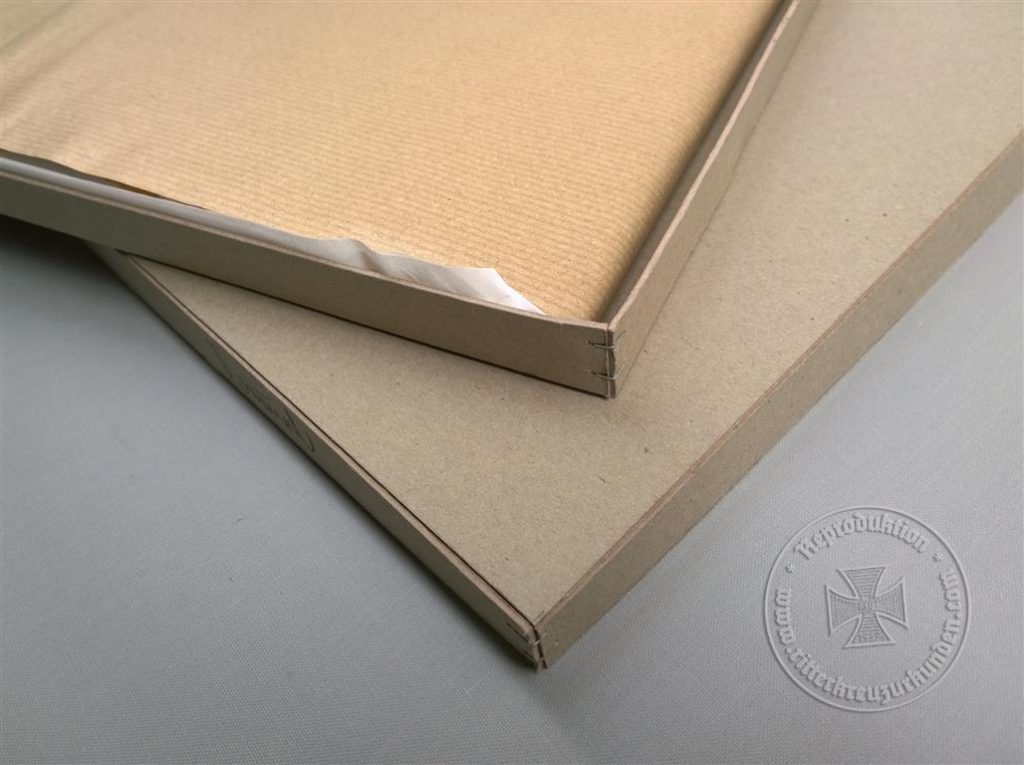 So all the bst and GOOD HUNTING !!
If you like what your read, give me a like on Facebook
Take care
Best
Sascha
"Subscribe" / "abonniere"
Copyright 2019 : Alle Rechte bei dem Verfasser Sascha Ulderup