Hi Collector Friends, today I like to bring an article about the Imme Pilot Badge to you which was written by Mr. Sebastian Talbot who is a specialist in WW2 Luftwaffe Badges.  Enjoy it.
Today I would like to present to you this J2 JMME pilot badge which holds much importance to me. When you collect, you tend to be drawn to a specific award for many reasons. This badge holds a special place in my collection since it was the very first one I acquired for my personal collection. Purchased from another collector and friend, Giel, more than a decade ago.
This badge dosen't have anything rare or fancy, but represents a wide range of badges awarded during the mid war period. Made from Juncker wreath and eagle, this pilot badge was assembled by the JMME manufacture. The JMME signature in the hardware is the typical doomed nickel silver rivets and nickel silver C catch. The finish colour is particular to this maker with the nice goldish/greenish finish for both the wreath and eagle. Produced between 1939 to 1942, this badge was produced in a large number. Some rarer examples can be found with a darkened eagle and these were most likely darkened by Juncker firm.
The JMME pilot badge from this period came out with the presentation box with either early velvet or spray felt interior and paper hinge depending of the period distributed. The exterior can be either the two or three layers imprint on the cover.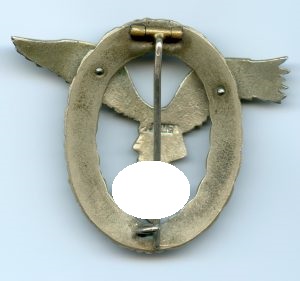 Historical Facts about the Pilot Badge:
The pilot's qualification badge was originally introduced on January 19th, 1935 for award to personnel of the DLV, "Deutscher Luftsportsverband Fliegerschaft", (German Air Sports Association, Pilot Base), the secret forerunner of the Luftwaffe, who achieved their pilot's license. The badge was officially adopted by the Luftwaffe on March 26th, 1936, by order of Hermann Göring. The pilot's badge was awarded on an individual basis to personnel who had successfully completed the appropriate theory and flight training and had achieved their military pilot's license. As with other flyer's specialty badges a cloth version of the pilot's badge was authorized for wear on the flight blouse with a machine embroidered pattern for EM/NCO's and a hand embroidered pattern for Officers. Of Note: Originally the cloth version of the pilot's badge was only authorized for wear by Officers ranks until regulations of November 18th, 1937 extended the authorized wear of the cloth versions to EM/NCO's. Further regulations of May 8th, 1942 discontinued production of the cloth versions although they continued to worn through-out the war.
Sebastien Talbot
Subscribe for more and get an email every time a new article goes online !
Best
Sascha
Copyright 2018 : Alle Rechte bei dem Verfasser Sebastien Talbot  / All rights with the author Sebastien Talbot