Hi Gentleman and a happy new year 2018. Hope you all found a good way into the New Year with you families and friends.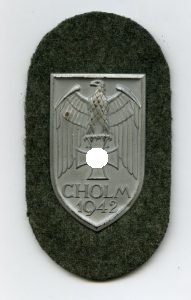 Now it is time to go back to our hobby. For this posting I picked a combat award which has a long story. Not because it is ultra rare (well it is rare), but obviously it takes some time to get it.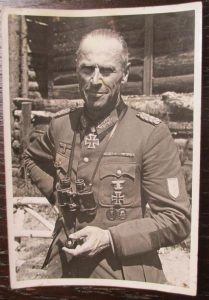 But let`s start at the beginning.
Back in time when I was a young boy about twelve years old I sat together with my grandfather "Opa Walter" in his garden. He was an army veteran of the 30. Infantrie Division and fought on the eastern front. There he lost most of his right leg when he was wounded by a splinter.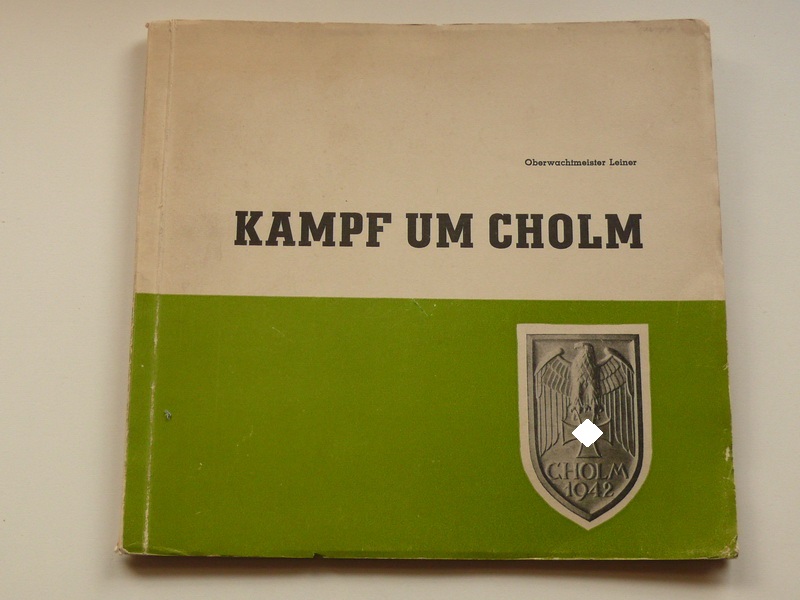 He told me about that time only a little bit, because he got always very shaky talking about his years on the eastern front. But that day he explained when he was hit and at which place it happened. It was the fighting in the pocket of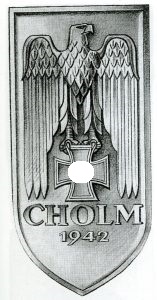 Demjansk where he was wounded and later on (luckily) taken out by a plane. In his estate there was not such a combat award as a Demjanskshield, no paperwork about the battle or any entry in his Soldbuch. Later on I found out more about the Demjansk battle and what happened there. That raised my interest on shields of World War II.
Starting my collection I tried to get the Demjanskshield
and that was not impossible. So I got more and more Information about shields and my shield collection grew.…..not so much were awarded….easy task I thought…..I was wrong.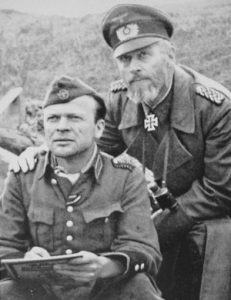 But I have to admit it must always be an award which fits in the own collection, so a nice one, better worn than unworn in a good condition. Narvik, Krim, Kuban, Demjansk came quick, Lappland has to be an estate (that way you get a little bit more proof that it "may" a war time piece), Lorient is nearly impossible to get one, Dünkirchen is more a cap badge than a shield….but if I could get one I would take it.
So you figure it out, it is the Cholmshield which was TOP of my list. Hard to get one in the version which was given to the fighters of the Cholm battle (so a short M version) in the condition 2+. Maybe not so hard for some of you, but with a small wallet it will take some time.
A good friend told me:"It takes time, but like a knights cross…. someday it will come to you". In all the years I bought 4 Knight crosses from private (I kept only two of them), and also a paper grouping from a Cholm fighter….but never ever a Cholmshield for my collection.
One day before Christmas 2017 I checked my collection and also the drawer "I better put this grouping aside for later….." I think everybody has such a drawer with things inside which are not your field of collection but toooooo nice to give it away….maybe later.
I found a grouping I could let go to raise some money for buying other things for my collection. Checking Christian von Eickes web shop Militaria Berlin I finally found THE Cholm shield I was looking for. The price was OK and we did a trade……and I got my first Cholmshield, short M, fabric backing condition 2+ !!!
Happy Christmas time for me!!!!
But after you read the whole story how I got mine, here is some more information to the Cholm mystery and maybe you can learn a little bit
History about the Cholm battle:
During the first week of December 1941 Marshall Zhukov launched Operation Typhoon and, in combination with appalling weather, pushed the invading Wehrmacht back from the gates of Moscow. In the North on the Southern Flank of Heeresgruppe Nord the German 16th Army reeled under the blow, conceding ground but not the two primary routes through the swamps covering the area between Seeliger See and Ilmen See. These routes ran through the towns of Demjansk and Cholm.
At Cholm, a force of just 5,500 men under the command of Generalmajor Theodor Scherer, though completely surrounded, held out for 105 days withstanding 100 infantry attacks (42 of which were supported by tanks). When the garrison was relieved, only 1,200 survivors remained. Throughout the ordeal the besieged men were supplied by air, and in the absence of heavy weapons, were supported by artillery 10 miles away in the main German lines. Following this epic battle Scherer was awarded a Knight's Cross and his men were feted as heroes all over Germany.
These are the units which fought in the battle as follows:
Parts of the 123. ID (Grenadier Regiment 416, Artillerie Regiment 123)
Parts of the 218. Infanterie Division (Stab Grenadier Regiment 386 with the 13 & 14 Kompanie Grenadier Regiment 386)
A "Fahrrad Bataillon" from "Aufklärungs Abteilung 218"
The "Gebirgs Jagdkommando 8"
Parts of the Reserve Police Bataillon Cholm
A "Marine Kraftfahrer" Unit
Various other units or parts of units (mostly from stragglers) were present in the pocket as well. During the course of the struggle, there was also an influx of a few new troops from parts of units flown in, as well as personnel attached to the K.G.z.b.V 172 (such as the glider pilots). It is stated in the German literature that over 60 units where present in the pocket, varying in size from small to large.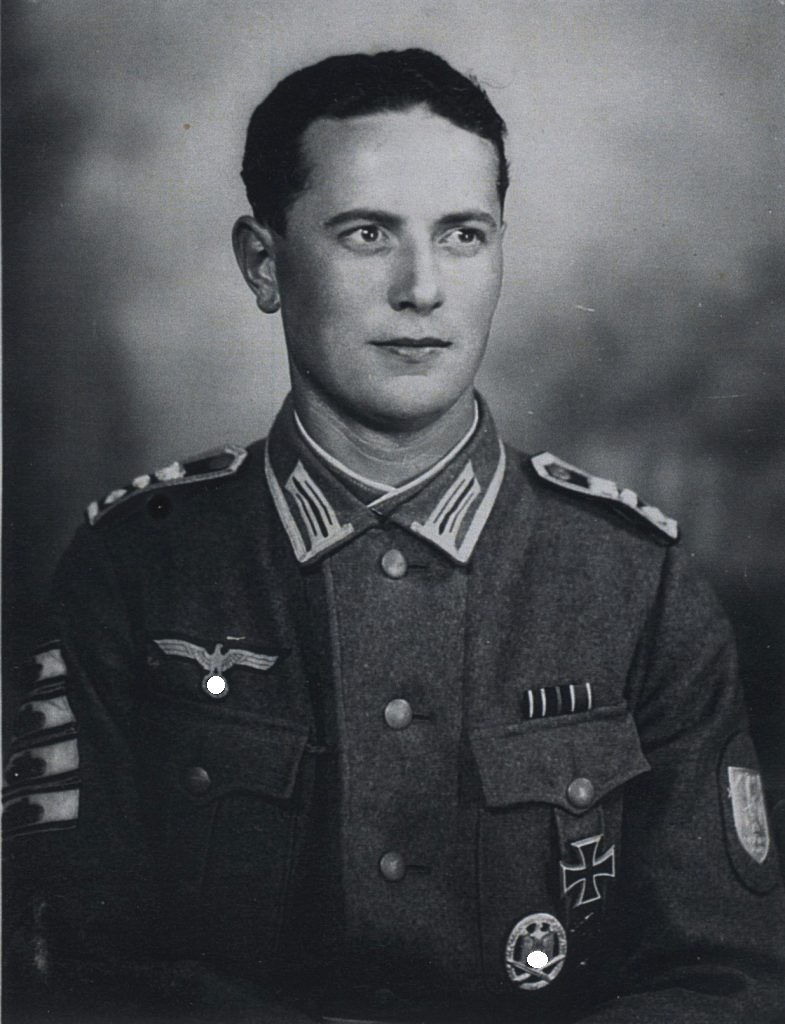 But let`s go back to the Cholm Shield itself. Who had the idea, how was it made and so on…
The basic Idea came from Generalmajor Theodor Scherer and the design was made by Polizei-Rottwachtmeister Schlimmer of the Reserve-Polizei-Bataillon Cholm. The draft was revised by Prof. Klein from Munich. He change the looking direction of the eagles head (if the shield is on the left sleeve of the jacket, the eagles head would look to the back, but Hitler liked it the other way, the eagle has to face the frontline…..) . He also changed the size of the shield. The draft was as long as the Narvikshield, so he made it a little bit shorter.
All shields were hollow and slightly concave to better fit on the sleeve of the uniform. Different manufacturers used different metals in the manufacture of the shields, and they can be found in earlier stamped white iron versions, which are magnetic and later shields of zinc, both versions were washed in silver. A backing plate was attached to the shield, between these was placed a piece of colored fabric. On the backside we find short prongs and long prongs. Also there are shields with paper backing and fabric backing.
Very important for us collectors is to spot an original from a copy. Original Cholm shields are very expensive; buying a post war shield is terrible and a hard lesson for you and hard on your wallet.
So here you go with what the collector`s world found out and what is in parts written in different Magazines and Online Forums. We have three major differences: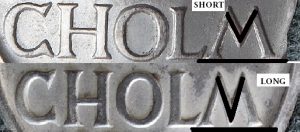 1. Cholm Shield magnetic with short M (this is the award type given to the troops)
2 . Cholm Shield made from zinc short M / dark surface and different shape of the fabric
3. Cholm Shield magnetic with long M / flaw in the swastika
I have to admit that are Cupal made shields out there but I am not so much into this cupal theory, so lets save that when the collectors world found out more.
If you look close to a number 1 Cholm shield you will notice some embossed errors, easy to spot. Under the wing and on the left side of the shield / edge.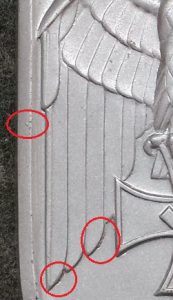 If you look at the zinc version or number 2, after all the years the basic zinc material is dark and the fabric shows a different shape then number 1 and 3.
If you look close to a number 3 Cholm shield you will notice a flaw in the swastika. Right lower gap between the swastika arms there is something you can see.
Also to identify a copy is that you have to check the eagles head. Some eagles look like they have a helmet on….which is not good. On some copy shields the eagle claws are not crossed in the middle light they should. Copy`s very often don`t have the details like an original. And……if the Price is very low you have to look twice……almost everyone knows that you pay for a good one 1800,- until 2800,- and more (depends on the condition). So if one is offered for 1000,- Euro and below, you warn signal has to go off and makes noise like hell.
I remember the Kassel fair in November 2017 where I was looking for a good one for my collection. I found some cheap copy`s (which are marked as postwar) but also a table where Cholm shield were offered for 1000,- Euro a piece in TOP condition. I did not make an effort to take it for an "in hand inspection". They were fakes and the seller knew it but they tried to sell them……well, I won`t forget that.
Here are some original Cholmshields
And here are some BAD Cholmshield / FAKE Cholmshields
Buttom line my friends, try to remember these things when you buy a Cholm shield somewhere or buy at a trustworthy dealer. That way you will be happy all the way.
Subscribe for more 😉
Best
Sascha