Today we show you a picture of the combat area in Italy or the Balkans.
In the photo we see two Italian assault guns of the type "Semovente da 105/25".
These are captured vehicles used by the Wehrmacht / Luftwaffe under the german name "StuG M43 with 105/25 853 (i)" after the italian truce (03.09.1943) and used against the advancing Allies.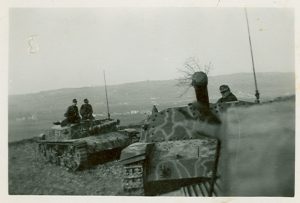 The "Semovente da 105/25", "Bassotto" to english "badger" called, was equipped with a 105 mm L/25 cannon and with the Germans due to its low silhouette and its strong armament very popular.
A total of about 90 pieces have been manufactured at Fiat-Ansaldo in Genoa (Sestri Ponente). Other sources say even that 12 pieces have been built before and 91 pieces after the italian truce.
The use of these assault guns was mainly on the italian mainland, but also in the Balkans.
To the exact unit to which the two vehicles have heard, we currently have no knowledge.
Units that should have used the "M43 105/25" are, for example:
-Fallschirm-Sturmgeschütz Brigade XI
-Fallschirm-Sturmgeschütz Brigade 21 ("Schmitz") – possessed until the beginning of 1945 over 56 "M43 105/25"
-Panzerjäger-Abteilung 165
-Panzerjäger-Abteilung 304
-Sturmgeschütz-Abteilung 242
-Sturmgeschütz-Abteilung 914
As a recognizable painting may have been used as a base color olive green with sand yellow stripes and brown spots.
From the factory side skirts were usually installed on the delivered vehicles, which were attached to the chain cover in three segments. These are evidently not available on both vehicles.
While no 'Balkenkreuz' is visible on the front vehicle, the rear one carries a typical 'Balkenkreuz' on the right front plate as well as on the side. In addition, an unreadable number or letter is visible in white (presumably 3 or B).
The cannon of the front vehicle is provided with a muzzle protector which is evidently additionally provided with branches.
In the photo is not exactly recognizable to which season the recording was made, it probably due to the recognizable warmer clothing of the soldiers presumably end of 1943 / early 1944 or even late 1944 / early 1945 come into question.
Further information about the photo is always welcome and may be added as a comment.
______________________________________________________________________________
Heute zeigen wir euch ein Foto vom Kampfgebiet Italien oder dem Balkan.
Im Foto sehen wir zwei italienische Sturmgeschütze vom Typ "Semovente da 105/25".
Es handelt sich um Beutefahrzeuge, die nach dem italienischen Waffenstillstand (03.09.1943) unter der deutschen Bezeichnung "StuG M43 mit 105/25 853 (i)" durch die Wehrmacht/Luftwaffe weiter verwendet und gegen die vorrückenden Alliierten eingesetzt worden sind.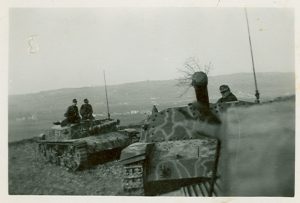 Die "Semovente da 105/25", "Bassotto" zu deutsch "Dachs" genannt, war mit einer 105 mm  L/25 Kanone ausgestattet und bei den Deutschen aufgrund seiner niedrigen Silhouette und seiner starken Bewaffnung sehr beliebt.
Es sollen insgesamt etwa 90 Stück bei Fiat-Ansaldo in Genua (Sestri Ponente) hergestellt worden sein. Andere Quellen besagen sogar, dass 12 Stück vor und 91 Stück nach dem italienischen Waffenstillstand gebaut worden sein sollen.
Der Einsatz dieser Sturmgeschütze erfolgte hauptsächlich auf dem italienischen Festland, aber auch auf dem Balkan.
Zur genauen Einheit, zu der die beiden Fahrzeuge gehört haben, liegen uns momentan keinerlei Erkenntnisse vor.
Einheiten die das "M43 105/25" verwendet haben sollen, sind z.B.:
-Fallschirm-Sturmgeschütz Brigade XI
-Fallschirm-Sturmgeschütz Brigade 21 ("Schmitz") – verfügte bis Anfang 1945 über 56 "M43 105/25"
-Panzerjäger-Abteilung 165
-Panzerjäger-Abteilung 304
-Sturmgeschütz-Abteilung 242
-Sturmgeschütz-Abteilung 914
Als erkennbare Bemalung dürfte als Grundfarbe olivgrün mit sandgelben Streifen und braunen Flecken verwendet worden sein.
Ab Werk waren an den ausgelieferten Fahrzeugen meist Seitenschürzen verbaut, die in drei Segmenten an der Kettenabdeckung befestigt waren. Diese sind bei beiden Fahrzeugen augenscheinlich nicht vorhanden.
Während am vorderen Fahrzeug kein Balkenkreuz sichtbar ist, trägt das hintere sowohl an der rechten Frontplatte, als auch an der Seite ein typisches Balkenkreuz. Zusätzlich ist daneben in weißer Farbe eine unlesbare Ziffer oder Buchstabe erkennbar (vermutlich 3 oder B).
Die Kanone des vorderen Fahrzeugs ist mit einem Mündungsschoner versehen der augenscheinlich zusätzlich mit Zweigen versehen ist.
Auf dem Foto ist nicht genau erkennbar zu welcher Jahreszeit die Aufnahme entstanden ist, es dürfte aufgrund der erkennbar wärmeren Bekleidung der Soldaten vermutlich Ende 1943 / Anfang 1944 oder sogar Ende 1944 / Anfang 1945 infrage kommen.
Weitere Informationen zum Foto sind uns jederzeit sehr willkommen und dürfen gerne als Kommentar hinzugefügt werden.
Text made by R.A.
Copyright at bacuffz.com