In today's photo we see a rail transport of a german tank 'Panzerkampfwagen V "Panther"' (Sd.Kfz.171).
The tank is a so-called 'Ausführung A' (Ausf.A), the second variant of the series production of this type (further variants Ausf.D and G).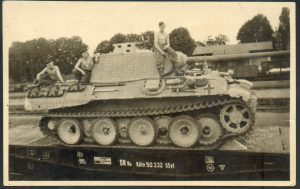 Based on various details that have arisen in the course of production due to changes and improvements, one can determine the production period of this vehicle at least from November 1943.
On the front plate of the hull (Glacis), the armoured ball mount (Kugelblende) for the radio operators machine gun is already recognizable. This was installed in the current production from November '43 by factory. The installed MG 34 is protected with a dark cover.
The tank already carries in September 1943 introduced "Zimmerit", a concrete-like anti-mine adhesive coating.
This coating was apparently applied at the factory with a uniform pattern on all vertical surfaces of the tank. The shape of the Zimmerit pattern suggests that the vehicle is at either M.N.H. (Maschinenfabrik Niedersachsen Hannover) or M.A.N. (Maschinenfabrik-Augsburg-Nuremberg) has been manufactured.
The vehicle apparently has no camouflage paint and is only painted with a dark yellow base color (Dunkelgelb RAL7028).
Turret numbers are evidently not recognizable on the side of the turret, but smaller paint remains indicate that the vehicle could have previously carried large numbers.
At  the guide ring of the commander's  cupola, the bracket (Fliegerbeschussgerät  41) for the anti-aircraft machine gun (MG) is recognizable. The associated MG is not installed. On the holder a small plugged flag is recognizable.
On the properly fitted tools located in the area of ​​the bolt cutter a steel helmet of a crew member is visible.
The tank was certainly equipped with side skirts (12 pieces), which were reduced due to the longer rail transport and probably stowed under the vehicle.
The photo is from a member of the Panzer Regiment 25 (I./Pz.Rgt.25). In view of the summer weather and the permissive clothing of the crew, the photograph could have been taken around the 15.07.1944, during transport to the eastern front towards Kaunas / Lithuania.
---
Pz.Kpfw. V "Panther" Bahntransport
Im heutigen Foto sehen wir einen Bahntransport eines deutschen Panzer 'Panzerkampfwagen V "Panther"' (Pz.Kpfw. V, Sd.Kfz.171).
Bei dem Panzer handelt es sich um eine sogenannte Ausführung A (Ausf.A), der zweiten Variante aus der Serienproduktion dieses Typs (weitere Varianten Ausf.D und G).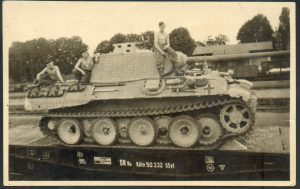 Anhand verschiedener Details, die sich im Laufe der Produktion anhand von Veränderungen und Verbesserungen ergeben haben, kann man den Produktionszeitraum dieses Fahrzeugs mindestens auf ab November 1943 bestimmen.
An der Frontplatte der Wanne (Glacis) ist bereits die Kugelblende für das Funker-MG erkennbar. Diese wurde in der laufenden Produktion ab November '43 ab Werk verbaut. Das verbaute MG 34 ist mit einer dunklen Hülle geschützt.
Der Panzer trägt bereits das im September 1943 eingeführte "Zimmerit", eine betonartige Anti-Minen-Haftbeschichtung.
Diese Beschichtung wurde augenscheinlich werkseitig mit einem gleichmäßigen Muster an allen senkrechten Flächen des Panzers aufgetragen. Die Form des Zimmerit-Musters lässt darauf schließen, dass das Fahrzeug entweder bei M.N.H. (Maschinenfabrik Niedersachsen Hannover) oder bei M.A.N. (Maschinenfabrik-Augsburg-Nürnberg) gefertigt worden ist.
Das Fahrzeug trägt augenscheinlich noch keinen Tarnanstrich und ist lediglich mit dunkelgelber Grundfarbe (RAL7028) bemalt.
Turmnummern sind augenscheinlich an der Seite des Turmes nicht erkennbar, jedoch zeugen kleinere Farbreste davon, dass das Fahrzeug zuvor große Ziffern getragen haben könnte.
Am Führungsring oberhalb der Kommandantenkuppel, ist die Halterung (Fliegerbeschussgerät 41) für das Flugabwehr-MG erkennbar. Das zugehörige MG ist nicht verbaut. An der  Halterung ist ein kleines aufgestecktes Fähnchen erkennbar.
An den vorschriftsmäßig angebrachten Werkzeugen befindet sich im Bereich des Bolzenschneiders ein Stahlhelm eines Besatzungsmitglieds.
Der Panzer war mit Sicherheit mit Seitenschürzen (12 Stück) ausgestattet, die aufgrund des längeren Bahntransportes abgebaut und vermutlich unter dem Fahrzeug verstaut worden sind.
Das Foto stammt von einem Angehörigen des Panzer Regiment 25 (I./Pz.Rgt.25) und könnte angesichts des sommerliches Wetters  und der freizügigen Bekleidung der Besatzung um den 15.07.1944 beim Transport an die Ostfront in Richtung Kaunas/Litauen entstanden sein.
Text made by R.A.
Copyright at bacuffz.com